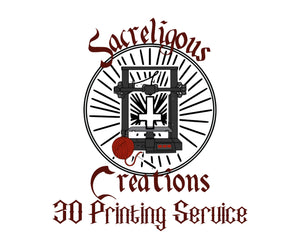 3D Print Service Consult
Are you wanting to 3D Print something but don't have a printer? We can help!
This is a NON-REFUNDABLE deposit that will go towards the INVOICED cost of your print. 


In your consult we will discuss pricing, colors, sizing, turn around time and materials. You must already have the file that you would like printed unless you are needing something designed by us which will exponentially incur additional cost and fees associated with design (please select the $30 deposit). 
Once you send us the design (print file), we are not selling you a finished print we are selling you the print service and the time on our machines. 
Our current fleet is comprised of 5 Sunlu S8 + 3D printers with a 310mm x 310mm x 400mm (12.2 inches x 12.2 inches x 15.7 inches) print area each as well as a Creality CR-10 S5 with a 500mm (19.6 inch) cubed print area. 


You are responsible for licensing compliance with who you purchased the file from. We will not be held liable. Once your print is completed the file will be removed from our system. 
Once your consult fee is paid if you choose not to go forward with using our print service prior to any start of print, your print service deposit will be added as a credit for you to use in our store. If printing has started you forfeit any monies paid.
If you are having something designed by us and choose not to move forward with the process once designing had begun you will not receive any refunds or credits. Due to the nature of said items and services there will be no refunds or cancellations. 
Design work is billed at $25 an hour.
We will not make or print serialized firearm parts.
For any other questions or concerns please email us at info@creativeheartwarrior.com. 
---
We Also Recommend