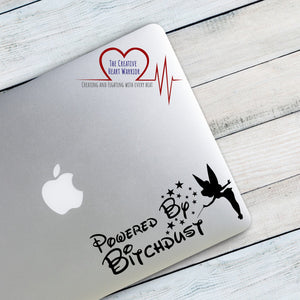 Powered By Bitch Dust Fairy Decal, Fairy Decal, Girl Power Decal, Vinyl Decal, Pixie Dust Decal
This decal features "POWERED BY BITCHDUST" with a fairy and stars.
Made from premium quality outdoor vinyl.
Approximately 2 inches tall by 5 inches wide.
Custom handmade to order.
Available in different colors. Please just send a note if wanting a color other than black.
Can also be put on a laptop, car, mug or a stainless steel tumbler.
Great addition to tumblers, electronics, car windows, coffee mugs, etc.
---
We Also Recommend