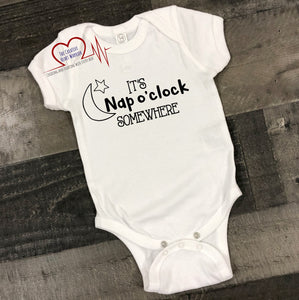 It's Nap O' Clock Somewhere Infant Bodysuit
Made from 100% cotton please see sizing details prior to ordering to ensure the best fit. 
Size Chart: 
Preemie- up to 5lbs, up to 17 inches
Newborn- 5-8lbs, 17-21 inches
0-3 Months- 8-12lbs, 21-24 inches
3-6 Months- 12-15lbs, 24-26 inches
6-9 Months- 16-20lbs, 26-28 inches
12 Months- 20-24lbs, 28-30 inches
18 Months- 24-28lbs, 30-32 inches
24 Months- 28-32lbs, 32-34 inches


Machine wash cold inside out on gentle cycle, tumble dry low or hang to dry. Do not iron.
Please contact us if you would like a custom color info@creativeheartwarrior.com