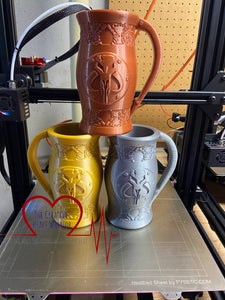 3D Printed FAN ART Mando Mug
3D Printed Fan Art Mug, due to the printing process it may have minor imperfections. 
Made from PLA and due to the heat sensitive nature of the plastic, please do not leave in your car or other areas of high heat.

Fits a 12 ounce SLIM CAN. It is not recommended to put liquid into the mug. 
PROP USE ONLY OR USE WITH A CAN.
Perfect gift or shelf display.

Extra thick walls and Premium Quality PLA made in the USA!

Approx. 7" x 5" x 5" -- Ask about Custom Sizes


--Attribution--
All credit goes to HEX3D for this 3D model. The HEX3D Patreon can be accessed at https://www.patreon.com/Geoffro.

--Legal Notice--
This is not an officially licensed product. It is only considered FAN ART.
Fan Art is protected under Fair Use.
Original character/prop and all rights for this character/prop belongs to all the different production companys.

Not intended for small children. Use prudence and supervision when gifting this to younger
children.
All of our items are in new condition and entirely 3D printed. Items may have visible layer lines or minor cosmetic blemishes due to the characteristic of additive 3D printing manufacturing. All of our items are inspected before they are shipped. We are committed to providing excellent customer service. If you have an issue with your order please contact us and we will resolve the issue promptly.
Unless otherwise stated, our items are printed in PLA. If you would like your products printed in a different material please contact us before making your purchase to discuss color options. PLA is a great non-toxic, environmentally friendly plastic that is renewable, beautiful, strong, and will last indefinitely if stored in typical room environments such as homes, office spaces, etc. PLA plastic is sensitive to extreme temperatures (above 111°F). To keep PLA products looking beautiful, avoid storing PLA products in direct sunlight or extreme temperature environments such as a locked, hot car in the summer heat.
---
We Also Recommend